Administrative Professionals Day 2020 - Wednesday, 22 April 2020
Administrative Professionals Week (APW) is celebrated by SAAP annually during the last full week in April and the intervening Wednesday is designated "Administrative Professionals Day". This week is dedicated to secretaries and administrative professionals in recognition of their contributions towards business and industries.
Administrative Professionals Week (APW) was established by the International Association of Administrative Professionals (IAAP) in 1952 in an effort to recognize secretaries for their contributions to the workplace and to promote the secretarial/administrative career as a profession.
In 1965, the observance date of National Secretaries Week was moved to the last full week of April. The event name was changed to Professionals Secretaries Week in 1981 and changed to Administrative Professionals Week (APW) in 2000 to keep pace with changing job titles and expanding responsibilities of the administrative workforce. The intervening Wednesday is designated as Administrative Professionals Day.
Over the years, this event is celebrated worldwide including community events, educational seminars and individual corporate activities in recognition of administrative support staff. 
---
Administrative Professionals Week (APW) 2020 Events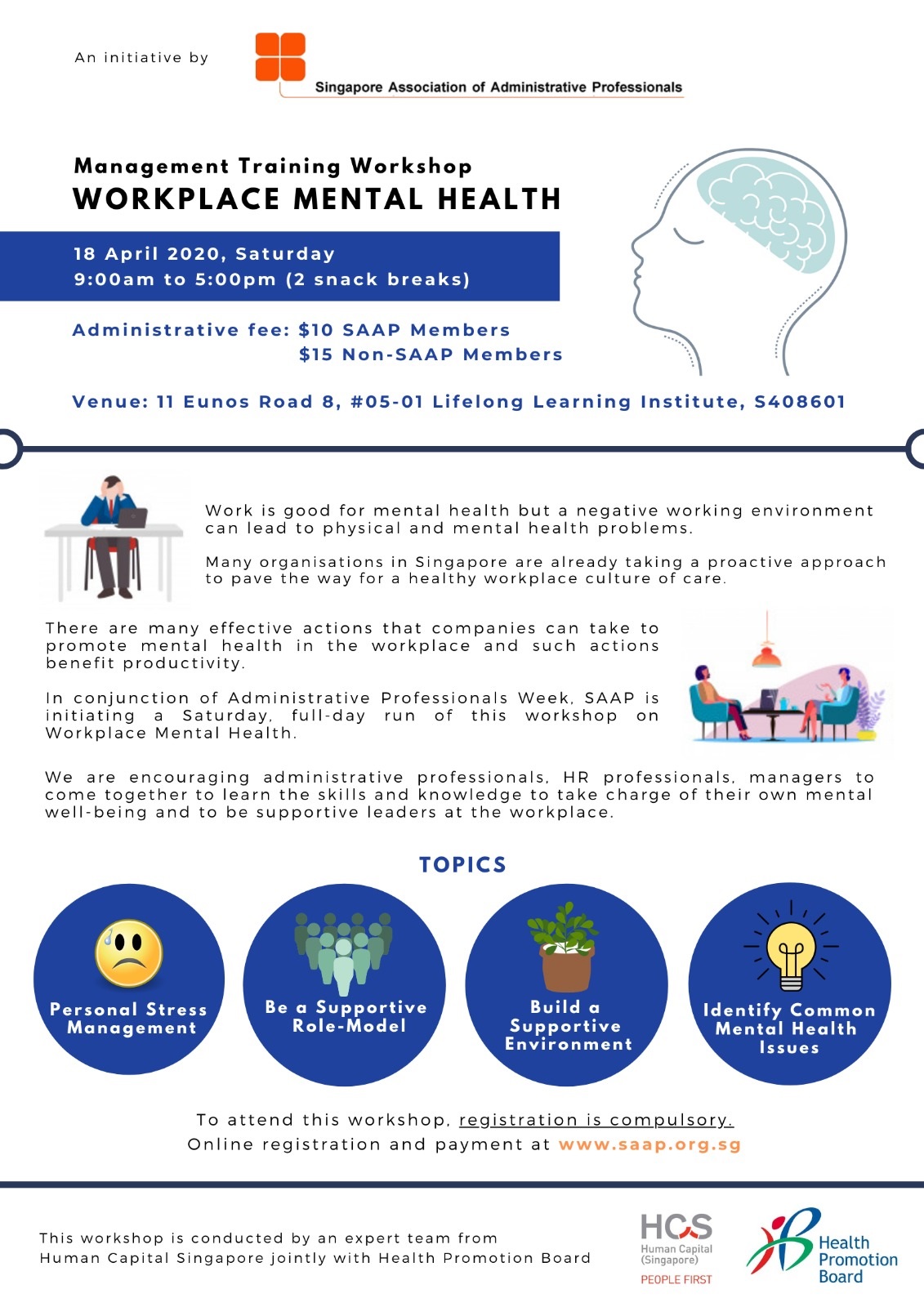 Workshop - Workplace Mental Health @Lifelong Learning Institute - 18 April 2020 (In view of MOH's announcement on 24 March 2020, Human Capital Singapore Pte Ltd cancelled Workplace Mental Health Management Training Workshop with effect from 26 March 2020 2359hrs to 30 April 2020. SAAP's workshop on 18 April 2020 also affected and cancelled)
Work is good for mental health but a negative environment can lead to physical and mental problems.
In conjunction with the Administrative Professionals Week 2020, SAAP is initiating a full day Workplace Mental Health Workshop on Saturday, 18 April 2020.
We are encouraging Administrative Professionals, HR Professionals, Managers to come together to learn the skills and knowledge to take charge of their mental well-being and to be supportive leaders at the workplace.
---