Administrative Professionals Day 2022 - Wednesday, 27 April 2022
Administrative Professionals Week (APW) is celebrated by SAAP annually during the last full week in April and the intervening Wednesday is designated "Administrative Professionals Day". This week is dedicated to secretaries and administrative professionals in recognition of their contributions towards business and industries.
Administrative Professionals Week (APW) was established by the International Association of Administrative Professionals (IAAP) in 1952 in an effort to recognize secretaries for their contributions to the workplace and to promote the secretarial/administrative career as a profession.
In 1965, the observance date of National Secretaries Week was moved to the last full week of April. The event name was changed to Professionals Secretaries Week in 1981 and changed to Administrative Professionals Week (APW) in 2000 to keep pace with changing job titles and expanding responsibilities of the administrative workforce. The intervening Wednesday is designated as Administrative Professionals Day.
Over the years, this event is celebrated worldwide including community events, educational seminars and individual corporate activities in recognition of administrative support staff. 
---
Administrative Professionals Day Workshop and Dinner - 27 April 2022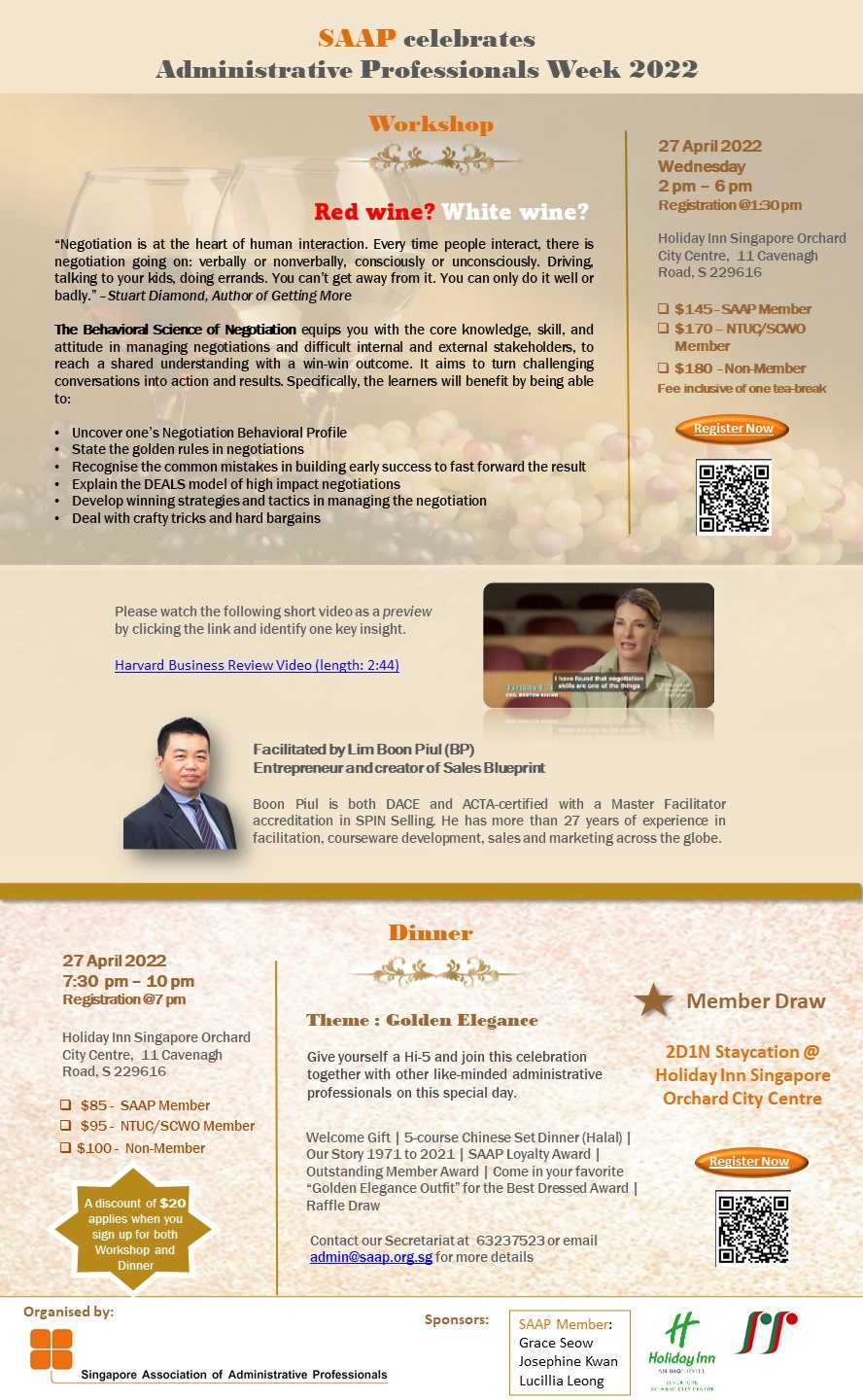 The APD workshop and dinner are happening on Wednesday, 27 April 2022 at Holiday Inn Singapore Orchard City Centre
Red Wine? White Wine? is a customized workshop by Mr BP Lim, an accredited trainer and facilitator. Through this workshop, participants will learn the golden rules, the phases and the winning strategies in managing the negotiations.
The APD dinner is themed Golden Elegance. It includes a sit down 5-course Chinese Halal Dinner, and fun segments with great prizes from the sponsors. Sign up for the combo workshop-dinner to enjoy a $20 discount!
Download flyer